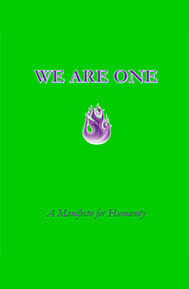 £5.00Paperback
£2.00eBook
We Are One by Simenon Honoré
"All the challenges we face, both personally and globally, have arisen in our lives in order to be healed. They are not there to punish us, or present us with insurmountable obstacles, or grind us into the dirt, and they are certainly not there to make victims of us. They are only there because they need to be healed and we, the people of this planet, have the resources to do it. Individually and collectively we have the power to build our own heaven on earth."
We Are One: A Manifesto for Humanity offers a practical vision of a society based on the interconnectedness of all life. From the atoms that make up all existence on earth to the atomic bomb that threatens to destroy it, our fates are indissolubly bound together. It is this that holds the key to resolving the issues that confront us both as individuals and as a planet. It is this too that that empowers us to build a better future for ourselves and our precious earth.
We Are One provides ideas for a programme of personal and planetary change.
Topics include:
9/11: a chance for world healing
A country called earth
Experiencing oneness
Embracing our shadow and our light
Justice without punishment
Respect and reverence for all life
We have the power to change the world
We Are One: A Manifesto for Humanity is a book that dares us to make a difference to the destiny of our planet.
Latest feedback...
" Just what do you say about a manifesto that is many centuries old? Much of what I have read here, I have seen in many of the ancient Akashic records dating back many aeons of time. I am so happy that you have been chosen to bring the message forward into this age. In this century it has been brought very clearly to life, and how! "
- Ann Barter (Spiritual Psychotherapist & Colour Healer)
" What can I say? Your manuscript was simply marvellous. There were countless times when I held my breath, shook my head, shouted "Amen!" Your words are so easy to follow.… I feel that the five principles discussed in your manuscript will also be accepted and embraced on an incredible magnitude, because that's what your book is, it's incredible. From the way you used tragedies of our global history to offer us a healing wisdom in the form of words that gently persuade us to see ourselves as we truly are... "A Country Called Earth", what a wonderful way to put it. "
- Estari Lamar Powers (Poet & Performance Artist)